Developing A 25-kW SiC-Based Fast DC Charger NEW
by Oriol Filló, Karol Rendek, Stefan Kosterec, Daniel Pruna, Dionisis Voglitsis, Rachit Kumar, Ali Husain, Didier Balocco, Aniruddha Kolarkar, Parthiv Pandya and Will Abdeh
The fast dc charging market is thriving. Along with the acceleration in the adoption of electrical vehicles (EVs), the demand for fast charging infrastructure is increasing. Growth projections range from 20% to 30% CAGR for the next five years. If you are an application, product or design engineer working in the power electronics field, sooner or later you could be involved in the design of one such novel charging system.
In this article series, which was originally, published in the How2Power Today newsletter, members of ON Semiconductor's EMEA Systems Engineering team walk through the process of designing and developing a 25-kW fast dc charger based on SiC power integrated modules (PIMs). This 25-kW dc charger module serves as a building block that can be stacked to create a higher power dc-charger system for fast charging EVs.
Part 4: Design Considerations And Simulation Of The DC-DC Stage
Part 5: Control Algorithms, Modulation Schemes And Feedback
Part 6: Gate Drive System For Power Modules
Part 7: Auxiliary Power Supply Units For 800-V EV Chargers
To learn more about battery charger design, see the How2Power Design Guide, locate the "Power Supply Function" category and select "Battery chargers".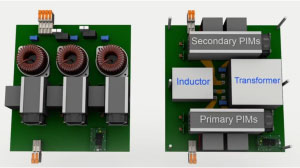 The PFC stage with fan assemblies attached to PIMs and blowing towards PFC chokes (left) and the dc-dc converter stage with fan assemblies attached to primary and secondary PIMs (right). (Part 8)