DC-DC Converters for Space Applications
This section presents information and resources to help designers select and evaluate rad hard dc-dc converters for space applications such as satellites and spacecraft. This section covers both fully functional dc-dc converter modules as well as power ICs. Resources for designing rad hard dc-dc converters are also referenced here.
Where to find dc-dc converters and related power ICs for space applications
A source list of manufacturers offering rad hard dc-dc converter modules, voltage regulators, and related power ICs with details about what they offer. View this manufacturers list.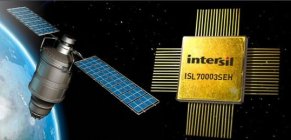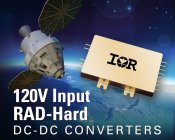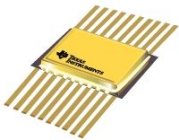 Images above courtesy of Renesas, IR HiRel, VPT and Texas Instruments.
News about rad hard dc-dc converter and related products
Organizations conducting research
in space electronics
Aerospace Corporation
The Aerospace Corporation's conducts fundamental research and development for "advanced military and civilian space systems". Its Physical Science Laboratories (PSL) consist of "more than 80 specialized laboratories" organized within three areas--Electronics and Photonics Laboratory (EPL), the Space Materials Laboratory (SML), and the Space Science Applications Laboratory (SSAL). "EPL focuses on areas of electronics and photonics directed towards development of new capabilities for space systems, as well as ensuring that new and existing systems reliably deliver 100% mission success in the rigors of the space environment." Areas of interest for this group include "Advanced Electronic Device Technology, Space Radiation Effects on Microelectronics, Microelectronic Reliability and Physics of Failure, and Micro/Nano Analysis for Components and Material."
Visit the Website»
Jet Propulsion Laboratory—Component Engineering & Assurance Office
JPL Section 514—Component Engineering & Assurance Office "provides selection, evaluation, and acquisition of reliable electronic parts for JPL Missions.  The Section develops, implements, and manages Electronic Parts Program Requirements and Plans for JPL Projects and Instruments. Section 514 supports designers in part selection and conducts review of part lists for compatibility with the intended space environment and mission life, provides acquisition of electronic parts, communicates with vendors to resolve issues and obtain parts on schedule, conducts radiation tests and provide characterization and analysis services" and more.
Visit the Website»
NASA Radiation Effects and Analysis Group
Based at Goddard Space Flight Center, the REAG "performs testing & analysis investigating the effects of radiation on electronics & photonics." Their home page targets "electronics designers, project managers, parts engineers, other radiation groups, and anyone with an interest….Testing has been performed on just about anything in the realm of electronics & photonics." The site provides "a searchable list of devices that have been tested" as well as a test reports on these devices. 
Visit the Website»
NASA Space Radiation Laboratory at BNL
In support of future missions to the moon and Mars, NASA has partnered with the U.S. Department of Energy's Office of Science to create the NSRL where "scientists use beams of ions to simulate cosmic rays and assess the risks of space radiation to human space travelers and equipment." An extension of Brookhaven National Laboratory's particle accelerator facilities, this lab makes use of BNL's Booster accelerator, which is described as "the only facility in the U.S. that can produce high energy heavy ions to closely mimic the space radiation environment."
Visit the Website»
Vanderbilt's Institute for Space and Defense Electronics
Vanderbilt University's Radiation Effects and Reliability Group (RERG) is described as "the only academic program directly involved in supporting the [U.S.] Department of Defense in radiation effects for strategic applications, and one of a very few programs involved in microelectronics research for space applications." An extension of the RERG, the Institute for Space and Defense Electronics (ISDE) was created to serve governmental and commercial customers. ISDE uses its expertise in radiation effects "to meet customer microelectronics reliability needs through circuit modeling, analysis, and design."
Visit the Website»
Space-Related Conferences And Trade Shows
(New for 2022)
Industry events where you can learn more about rad hard dc-dc converters, power ICs and related components.


Recent Space-Related Features In How2Power Today
Radiation-Tolerant Power Electronic Systems Are Hard To Design
by Ken Coffman and Salah Ben Doua, Vicor, Andover, Mass.
SEE Testing On GaN FETs—Interpreting Results For Space Power Applications
by Kiran Bernard, Renesas Electronics America, Palm Bay, Fla.
Ruggedizing Buck Converters For Space And Other High Radiation Environments
by Nazzareno (Reno) Rossetti, Alphacore, Tempe, Ariz.
MOSFET Packaging Innovations For SWaP-Optimized Space Power Systems
by Oscar Mansilla, Rushi Patel and Michelle Lozada, International Rectifier HiRel (IR HiRel), an Infineon Technologies Company, San Jose, Calif.
Space-Grade Tantalum Polymer Caps Deliver Lower ESR And Better Current Handling For Bulk Capacitor Applications
by Ron Demcko, AVX, Fountain Inn, S.C. and Slavomir Pala, AVX Lanškroun, Czech Republic
Predicting Mission Life Performance And Reliability Of Rad-Hard Power Electronics
by Peter Lee, International Rectifier HiRel Products (IR HiRel), an Infineon Technologies company, San Jose, Calif.
Rad Hard MOSFETs Enable Easy Upgrade Of Flight-Proven DC-DC Converter
by Andrew Popp and Bjarne Soderberg, International Rectifier HiRel Products (IR HiRel), an Infineon Technologies Company, El Segundo, Calif.
The Power Supply Designer's Guide To Radiation Effects in Power Semiconductors
by Paul L. Schimel, Microchip Technology, Chicago, Ill.
Integrated Current Limiter Eases Power Protection In High-Voltage Space Applications
by Salvo Pappalardo, STMicroelectronics, Milan, Italy and Ignazio Mirabella, STMicroelectronics, Catania, Italy
How To Drive Rad Hard E-Mode GaN Transistors Efficiently And Safely
by Tony Marini and Jim Larrauri, Freebird Semiconductor, Haverhill, Mass.
Base Metal Electrodes Reduce Size And Weight Of MLCCs In Satellites
by John Marshall, AVX, Coleraine, United Kingdom and Ron Demcko, AVX, Fountain Inn, S.C.